Alternate Programs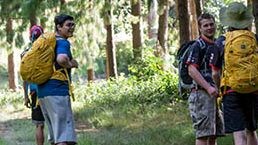 District Alternative Resource Programs
Alternative Resource programs provide an environment that includes additional support for students. Teachers use a variety of instructional methods designed to meet the academic needs of students. In addition, the program staff is dedicated to working individually and in groups to address the social, emotional, behavioural and mental health needs of students.
In most cases students referred to the alternative programs should meet the Ministry of Education criteria for designation in the "R" or "H" category (Students Requiring Behaviour Intervention or students with Mental Health concerns).
Each program offers an application package detailing information regarding the referral process. Please contact your neighbourhood school counsellor or the programs directly to obtain an application. Parent/guardians will be notified directly by program staff with regard to the status of applications.
More Information on District Alternative Programs


Inter-agency Alternative Programs
The Inter-agency programs are jointly funded by the Ministry of Education and the Ministry of Children and Family Development (MCFD). These programs are for students whose needs cannot be met within the setting of the neighbourhood secondary school or District Alternative Resource programs.
These programs are designed for students who demonstrate behavioural difficulties and "at risk" behaviours, which may affect their learning, interpersonal relationships and /or personal adjustment over a prolonged period of time. These students meet the Ministry of Education criteria for designation in the "H" category (Students Requiring Intensive Behaviour Intervention or students with Mental Health concerns).
More information on Inter-agency Alternative Programs


Adult Education Centres
The VSB operates two adult education centres which provide adult students with courses from the literacy level to secondary school completion:
Gathering Place Education Centre
609 Helmcken Street, Van., B.C. V6B 5R1
South Hill Education Centre
6010 Fraser Street, Van., B.C. V5W 2Z7
For more information about Adult Education Centers, please visit https://www.vsb.bc.ca/page/5240
Graduation Options
A 2004 Graduation Program (Dogwood) is required for students who have entered grade 10 for the first time since 2004. Students must acquire 80 credits at the grade 10, 11 and 12 levels and required to write five graduation program exams.
Graduation program exams are mandatory for every course in the following subject areas: Language Arts 10, Science 10, Mathematics 10, Social Studies 11 or Civics 11 or B.C. First Nations Studies 12 and Language Arts 12. Please refer to page iv "At a Glance Requirements – What You Need to Graduate" or visit www.bced.gov.bc.ca/graduation/grad2004.htm
The Adult Graduation Program (Adult Dogwood) is open to students who are 19 or older or in a few cases who are 18 with exceptional circumstances. This program requires a student to successfully complete 20 credits that must include English or Communications 12 and Math 11. To be eligible for the adult Dogwood, the student must take at least three of courses leading towards graduation as an adult (19 years of age or older).
The School Completion Certificate Program is open to students for whom the other graduation options are not academically realistic. In order to receive a School Completion Certificate, a student must complete the goals of their Individual Education Plan (IEP) which includes academic, personal, pre-employment and career components.
At-a-glance requirements - What you need to graduate with a Dogwood