Advanced Placement Exams
Registration for the 2024 AP Examination Period
---
Priority exam registration, for VSB students ONLY, opens at noon (PST), Wednesday, October 25th, 2023. *PEN number and birthdate required for registration (9 digit PEN found on MyEd or on the top of a report card).
General exam registration (Non-VSB students) opens at noon (PDT), Friday, December 1st, 2023.
Registration for May 2024 AP Exams closes at 8 am (PDT), Thursday, February 15th, 2024.
***Registration is on a first come, first served basis. Please note there are a limited number of seats available for each exam. Registrations occurring from October 25th-November 9th will be charged $200 per exam. For priority registration: if Step 2 is not completed by November 13th, students will have their registration cancelled and forfeit their registration fee.*
After November 9, 2023, if seats are available, students will be charged $275 per exam, which includes the College Board late fee.***
Please see the chart (bottom) for Exams being offered by VSB in 2024
Questions regarding 2024 VSB district AP exam session? -Please email: apexam@vsb.bc.ca
---
For the Vancouver School District to provide the opportunity for students who are self-studying to write AP Exams in 2024, the following steps will be implemented to comply with the College Board requirements.
STEP 1 – Paying to write the exam

Students must first pay for each exam by credit card online here. Students will be asked to provide their legal first and last names, phone numbers, and email addresses (Gmail addresses are reliable and efficient for communication purposes). Please note that the exam payment is non-refundable under any circumstances. Therefore, students must be sure they are committed to preparing to write the exam(s) in May. Also, it is the student's responsibility to keep updated with AP announcements and directions. Therefore, it is essential to provide an accurate email address for communication purposes.
STEP 2 – Ordering the exam(s)
Following receipt of payment, students will be contacted through the email address provided with their payment and will be given a JOIN CODE* for each exam they are preparing to write in May 2024. At this point, the student will set up a College Board account at https://myap.collegeboard.org/login and provide personal information to the College Board for their records. Use your legal first and last name as it appears on your identification. The student will then enrol themselves in the exam subject.
*Note: Join Codes will be emailed within 3 business days.
*Both steps must be completed to order the exam. If Step 2 is not completed within 72 hours of receiving Join Code email, students will have their registration cancelled and may forfeit their registration fee.* Please note that no regular exams can be ordered after February 15th, 2024.
STEP 3 – Writing the Exam
All exam-only students will write their exams at the scheduled time at Vancouver Technical Secondary School (2600 E Broadway, Vancouver BC, V5M 1Y5) in the small gym. Students must arrive no later than 15 minutes before their exam is scheduled. Please bring a government-issued photo ID to the exam (e.g. Driver's License, Passport, Certificate of Canadian citizenship or Permanent Resident Card) and comply with all Health and Safety regulations. Students will not be permitted to write the exam without a photo ID. Check the seating plan for your assigned testing seat before you enter the testing area. No electronic devices are permitted inside the exam area except for approved calculators. Latecomers will not be permitted to enter.
Please note there are no refunds under any circumstances. This supersedes anything the College Board has stated.
2024 Exam Schedule: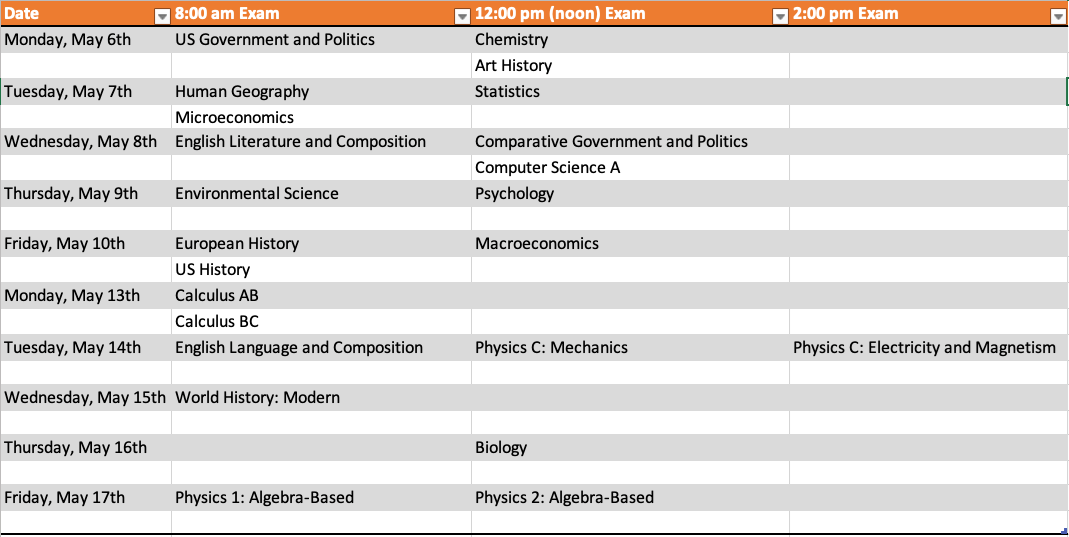 The following May 2024 AP exams are completely sold out:
AP Calculus AB
AP Calculus BC
AP Comparative Government & Politics
AP Computer Science A
AP Human Geography
AP Macroeconomics
AP Microeconomics
AP Psychology