Adult Ed helping 57-year-old woman pave her way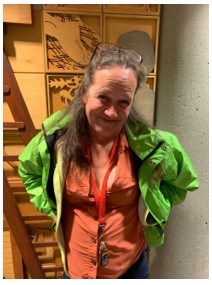 Tamara Loyer is a 57-year-old woman who was once living on the streets of the downtown east side. Tamara has attended South Hill in the Adult Education program for over a year working towards a degree in astrophysics. Without a home, Tamara did not have much access to education and really struggled to find the right supports.
"A few years ago, I was homeless. Then Atira Women's Rescue Society picked me up and they gave me a home. When you have a home, you have a place to do your homework and you can work at something," said Tamara.
Tamara's story demonstrates the perseverance and commitment that many of our Adult Education students have when they first join this program. After a year in the Adult Education program, Tamara has learned that it does not matter where you come from, everyone deserves an education. "Everyone has a brain. If everything that happens to you is going wrong, it doesn't mean you can't get it right."
Adult Education gave Tamara the opportunity to learn, without barriers. "The teachers and administrators in Adult Education have been very positive and supportive,"
Tamara adds. "No one has said to me you can't do this, because you don't have money or you're trans or anything, I really appreciate their support."
Having an education has always been a priority for Tamara – and with the help of the staff in Adult Education, Tamara is excited about the possibilities for her future career path in Astrophysics. Tamara plans to graduate from South Hill Secondary and continue her studies at the University of British Columbia to earn a double major in Physics and Astronomy.
Interested in learning more about Adult Education? Go to govsb.ca/adult for more information on how to upgrade your education.