Budget 2023-2024
Vancouver Board of Education
Draft 2023-2024 Annual Budget
Draft 2023-2024 Annual Budget V2
Draft 2023-2024 Annual Budget V3
Draft 2023-2024 Divisional Budget
2023/2024 Budget Timeline
The budget email address (budget2023-2024@vsb.bc.ca) is now active for accepting written submissions regarding budget priorities for development of the 2023-2024 operating budget. All written submissions to the Board are considered public documents. The Board, therefore, reserves the right to make any submissions available to the public.
The 2023-2024 Budget Development Process and Timeline was presented at the November 23, 2022 Finance Committee meeting for review and was approved by the Board at the November 28, 2022 Board Meeting.
Registration is now open for delegations wishing to present at budget Committee-of-the-Whole meetings (scheduled for April 19 and April 24, 2023).
If you wish to present regarding budget priorities or the draft status quo budget, please email budget2023-2024@vsb.bc.ca. Your email must be received by 4:30 pm on the Wednesday before the applicable Committee-of-the-Whole Board meeting date. Please indicate if you will present as an individual or on behalf of a group and include the name of the group, if applicable.
Registered delegations will be sent a confirmation email (with instructions) and will be listed on the applicable meeting agenda, which will be posted on the website. Technical support will be provided, as required.
2023-2024 Budget Process Timeline (Approved by the Board at the November 28, 2022 Board Meeting)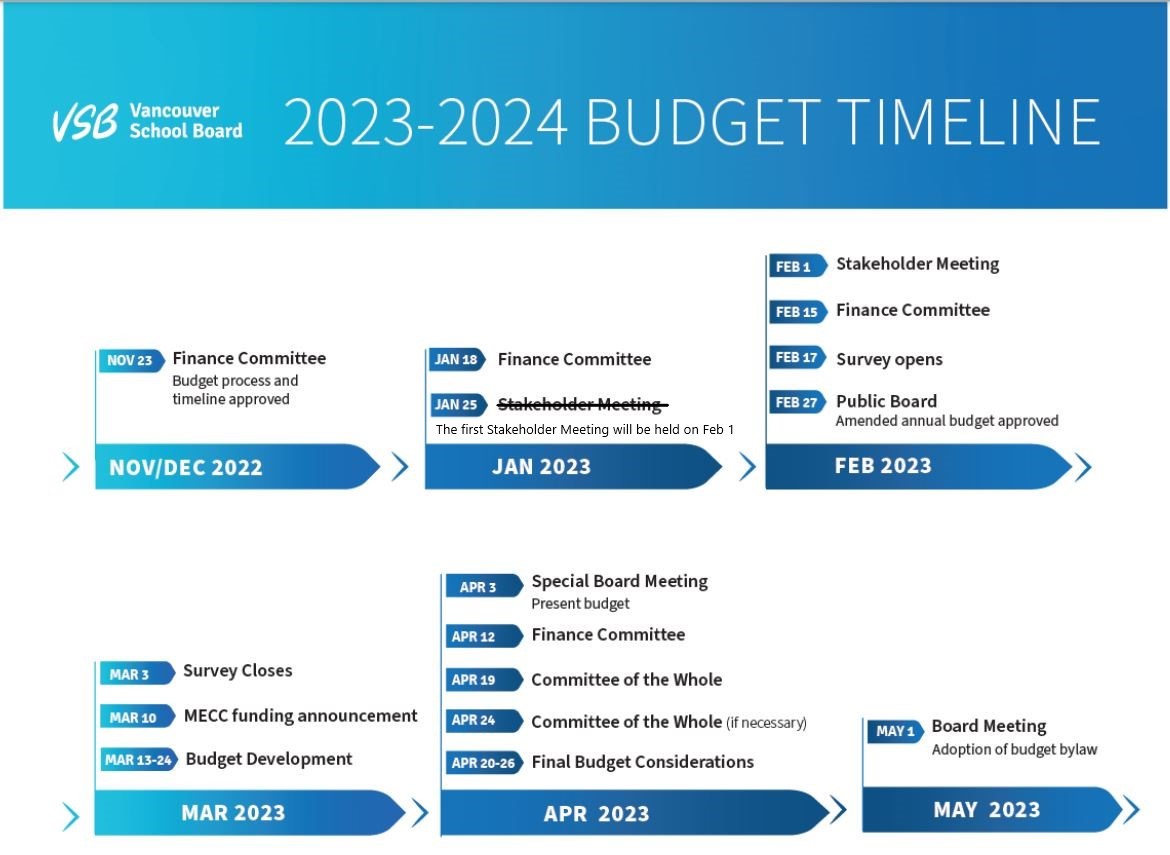 Budget Correspondence Received - to date