Your School Catchment
School Locator Tool
The school locator tool is offered to help families identify their catchment school. 
Users do not need to enter the direction or city. (ie, enter Broadway, not West Broadway or Broadway W.)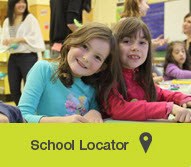 Remember to Enter in your Street Name only and not your Address.
Disclaimer: While every effort has been made to ensure the accuracy of the data, in the event of a discrepancy, the determination of your catchment school by the District is final.