QEA Land Surplus Consideration
Following the June 2022 decision to close Queen Elizabeth Annex (QEA), the Board is now considering declaring the QEA site and its buildings surplus to the educational needs of the District. No decision has been made. The Board must first decide whether to surplus the land, before exploring alternative land use possibilities.
Selling or leasing VSB property is governed by the School Act through the Disposal of Land or Improvements Order and Board Policy 20 – Disposal of Land or Improvements "The Board has the responsibility for the disposal of its Real Property and may, after considering future educational needs and school space requirements for the school district, deem a property no longer required for further educational purposes or other Board purposes and determine to proceed to dispose of such property."
District recommendation
As discussed during the consideration to close QEA and detailed in future development considerations, the site is not needed for educational purposes now, or into the future.
In addition, the Francophone public school board, Conseil scolaire francophone de la Colombie-Britannique (CSF), is interested in acquiring the QEA site. Given this, future development considerations, and that CSF is another public education Board, the District recommends the Board declare QEA as surplus to District needs and proceed with disposition of the site and buildings to CSF. Visit alternate community use for further information.
Potential funds generated from a sale or long-term lease of the land would provide capital revenue for the Board, that can then be directed for priority capital investment such as building a new school in an area with enrolment demand, as well as expanding or seismically upgrading an existing school.
Engagement opportunities
As per Policy 20, the Board has directed the District to engage with stakeholders, local governments, community organizations and/or the public, prior to determining future land use.
The District will begin engaging with stakeholders, the xʷməθkʷəy̓əm (Musqueam), Sḵwxwú7mesh (Squamish) and səlilwətaɬ (Tsleil‐Waututh) Nations, the school communities and neighbourhood associations in the vicinity of QEA, other civic agencies, as well as the public during the month of February, 2023. Visit engagement process for further information.
Next steps
Feedback from the engagement, along with the District staff's recommendation to surplus the site will help inform the Board's decision at the public Board meeting, scheduled on April 11, 2023.
If the Board declares the QEA site and its buildings as surplus, it may then instruct staff to proceed with the land disposition process, which includes either sale or long-term lease of the land.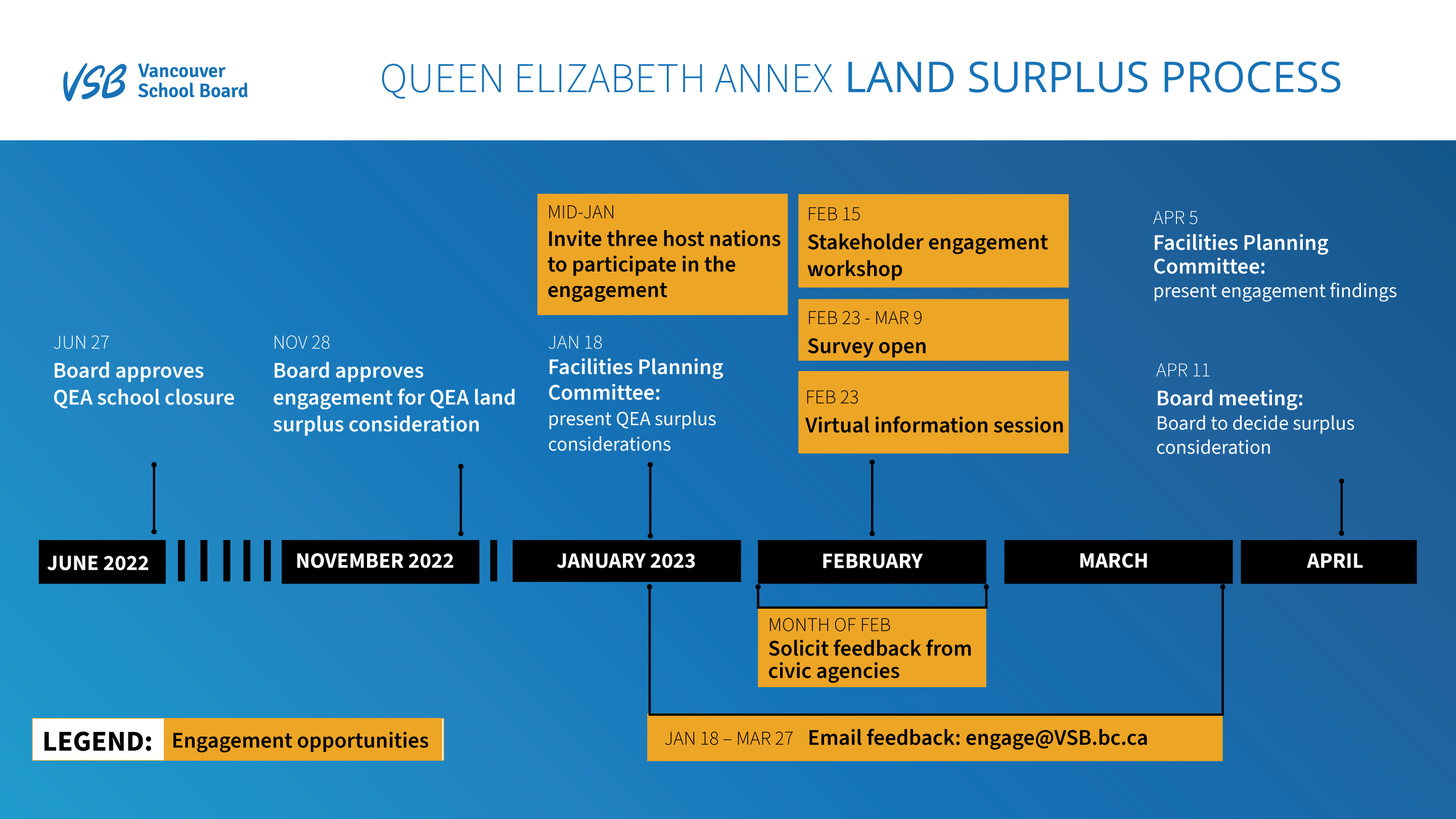 Engagement Findings
On April 5, 2023 the What We Heard - Engagement Findings Report, which included findings from an online survey, community information sessions, stakeholder and Rightsholder engagement sessions was presented to the Facilities and Planning Committee.