South Portion of Fleming Site
Background
The new Fleming school required the reconfiguration of the entire school site during the design and construction process as part of the Seismic Mitigation Program. This has created an opportunity for a portion of the site to become available for re-purposing subject to Board and Ministerial approval.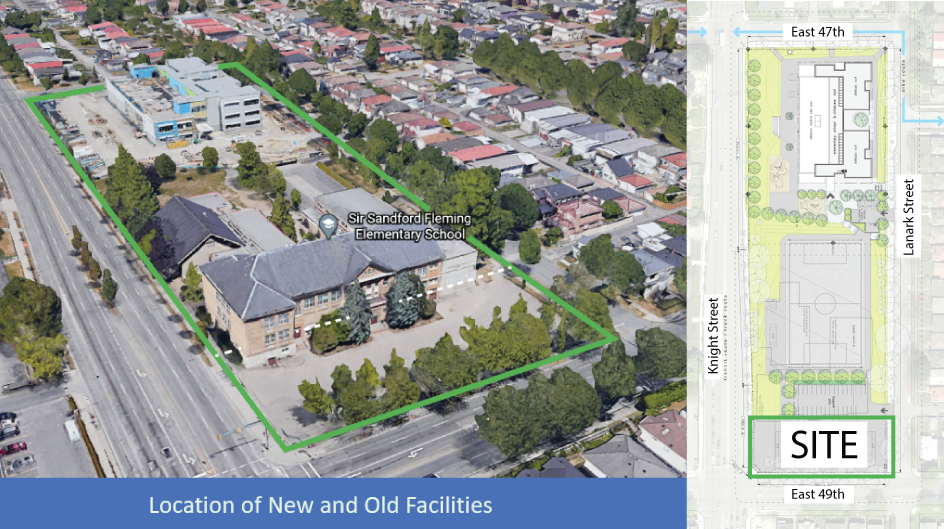 Current Status

On April 13, 2021, VSB staff hosted an initial public information session regarding the potential disposal of the south portion of the Fleming school site, before the consideration by the Board about declaring the site as surplus to future educational needs of the school district.

The initial public information session sought input from representatives of the Indigenous community, the education community, local government, community organizations as well as the general public.
Two online information sessions were offered on the same evening, April 13, 2021 to provide more opportunities for more people to attend. The presentation for each session was the same for both sessions.
Session 1: 5:00 PM - 6:30 PM (watch the session)
The first session focused on educational stakeholders and questions related to education were encouraged. Translations via captions were available for this session in Chinese (Simplified), Chinese (Traditional), Vietnamese, Tagalog, Spanish, and Arabic.
Session 2: 7:00 PM - 8:30 PM (watch the session)
A second session was also held and open to the broader public. Non-education aspects were the main focus. Any member of the school community were also welcome to join. Translations via captions will be available for this session in Japanese, Korean, Russian, Portuguese, Hindi, and Persian.
For more information, please read this report presented on March 10, 2021, during the Facilities Committee Meeting.
On May 5, 2021, the results of the public information session that occurred on April 13, 2020 were presented to the Facilities Planning Committee. Check the report and powerpoint presentation.
On May 25, 2021, the Board passed a resolution to declare the site as surplus. Additional public input and consultation will also occur through the disposal process.
Disposal options are permitted by the School Act and Ministerial Regulations and would include a lease of 10 years or longer, or a sale or transfer in fee simple.
Next Steps
Staff will proceed with the disposition process as per Board Policy 20.
Disposition process updates are posted here.
Contact Information
Parents and staff may direct questions to the Facilities Department.