Welcome to Kindergarten

Welcome to Kindergarten is an event for families/caregivers with children four to five years old who will be entering kindergarten in the fall. Families will engage in fun, play-based activities led by their child's new educator, and will have the opportunity to meet other school and community members. Each family will receive a resource bag with specially selected early learning materials and books. Parents/Caregivers will learn strategies on how to use these resources to support their child's development through play-based learning and to prepare their child for a positive start to school.
A Welcome to Kindergarten Bag Resources page is also available so you can learn what's inside the WTK bag and how to utilize these resources through "Talk, Read, Create and Play" ideas.
All Vancouver schools will host a Welcome to Kindergarten session in April, May or June. Please contact your Neighbourhood School for more information.
What is "Welcome to Kindergarten"? It is a program built on a TALK, READ, CREATE, PLAY EVERYDAY model – experiential learning that helps develop children's literacy, math, creativity, physical and social-emotional skills and competencies through these 4 ques: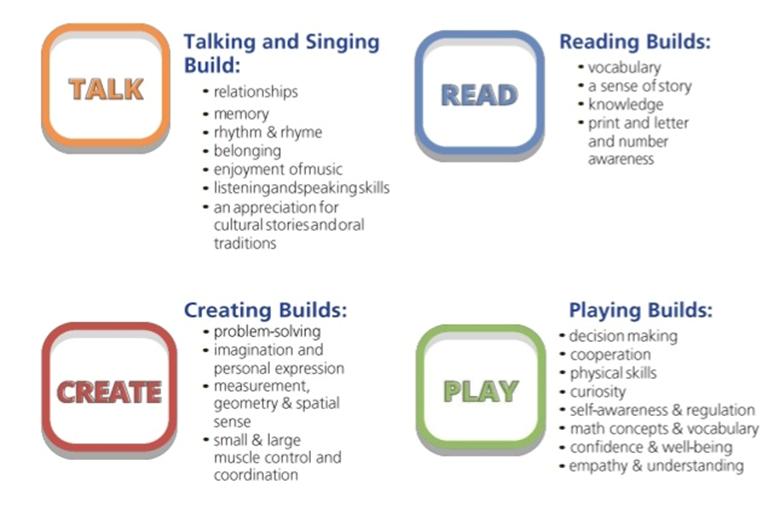 Play-based learning is one of the most effective approaches to develop the foundational skills for success in school and in life.
For more play-based learning activities and ideas:
Welcome to Kindergarten Blog
Welcome to Kindergarten Learn to Play newsletter
Let's Play Activities
View our Preparing for Kindergarten booklet:
Support the Transition to Kindergarten information is also available.